Latest in Tag:

Tahrir

Highlight
Latest in Tag:

Tahrir
---
Competing marches planned while Al-Azhar Sheikh claims killing those opposing President legitimate
---
Detainees were arrested in front of the Suez Governorate building on Friday, 4 May
---
25 activists released on Friday, still face charges
---
Following the Supreme Constitutional Court's rejection of the presidential decree last Tuesday –which had, briefly, re-instated the People's Assembly– Islamist parties holding the majority of seats called for protests in Tahrir.
---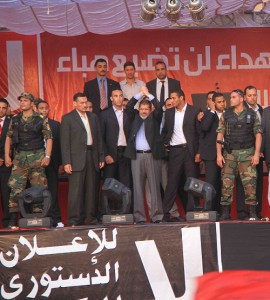 Morsi strives for middle ground; the president-elect takes the oath of office in Tahrir, and will do so again infront of SCC general assembly tomorrow
---
They dance and surge, emotions borne high for all to see, passionate and invigorated by those that surround them. Their power is most obvious when it is dark, their faces lit up by fireworks or fires
---
The candidate from the Muslim Brotherhood's Freedom and Justice Party becomes the first civilian President of Egypt
---
---
Recent reports have thinned the gap of votes between the two candidates to less than a million, with the Muslim Brotherhood putting their candidate in the lead and Ahmed Shafiq slinging accusations of wrongdoing against his opponent
---
Egyptians have managed to bring down a deeply-ingrained autocratic regime and set up what is proving to be a relatively close democratic presidential election, all in the hours people normally watch television before going to bed. Workers by day, fighters of injustice by night; the protesters are truly the collective Batman of the revolutionary world.
---
Parliament march turned away by security forces and returns to familiar haunt in Tahrir Square
---
People who are experiencing trauma or who are in shock are per definition in a state of trance. This means they are in a suggestible state and the words that are spoken to them will have a deep and long lasting effect. When dealing with people in an emergency situation the way they are addressed is of enormous importance.
---
Tahrir Square fills up with protesters, as different political forces set up stages.
---
By Tom Perry and Marwa Awad /Reuters CAIRO: Thousands of Egyptians packed into Cairo's Tahrir Square on Friday to protest against a run for the presidency by former intelligence chief Omar Suleiman, in an Islamist show of strength against Hosni Mubarak's old guard. The Muslim Brotherhood — the biggest group in parliament — called the protest …
---
---
By Karim Kasim In the last week of July, the United Nations held its High Level Meeting on Youth as part of the closing of the International Year of Youth 2011 in the General Assembly. This year was definitely a historic year that witnessed the massive mobilization and leadership of youth in the Arab world. The …
---
End of Section