Latest in Tag:

The Libyan National Army

Highlight
Latest in Tag:

The Libyan National Army
---
LNA warns Turkey to stop 'its military support to terrorist militias'
---
Air fighters destroyed several sites in Mitiga, Misrata airports: Al-Mesmari 
---
The city have witnessed several strikes over the past two weeks, and this is not the first time the LNA targeted the air college.
---
Some of the alleged strike's victims were previously imprisoned over terrorism charges, says LNA spokesperson
---
Raid allegedly target Turkish military presence at Libyan airbase
---
According to the media centre of the military operation of 'El-Karma' (Dignity) launched against militias of the GNA, eight Turkish drones were targeted by LNA air defence forces since the beginning of the operation.
---
However, officials from the GNA announced that it pushed back the attack, in statements to the Anatolia news agency on Friday.
---
---
The Libyan National Army (LNA) urged its troops engaged in Tripoli clashes to battle harder and teach their enemies an even bigger lesson, Reuters reported. LNA Commander Khalifa Haftar was quoted as saying that soldiers should fight harder because the Muslim month of Ramadan which begins on Monday is a month of holy war. "Officers …
---
The Libyan National Army (LNA) said that it seized control of Libya's southern border with Algeria, according to the spokesperson for the army, Ahmed Al-Mismari. He added that the forces entered several southern towns, including Ghat and Awayna during the previous week, with the aim of countering terrorists and criminals.   In a recent development …
---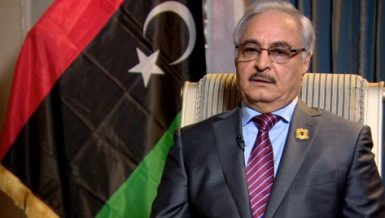 Libyan National Oil Corporation stressed resumption of field's production
---
End of Section