Latest in Tag:

waste management

Highlight
Latest in Tag:

waste management
---
Ambassador Hamad Saeed Al Shamsi expressed gratitude, appreciation for Egypt's environmental efforts
---
PepsiCo Egypt has successfully launched its waste management platform, called "Recycle for Tomorrow", under the auspices of Egypt's Ministry of Environment.
---
Aim is to reach 80% of waste recycling in Egypt, says Environment Minister
---
"You are the Beginning" initiative aims to enable women to manage their household waste and educate their families about used cooking oil recycling
---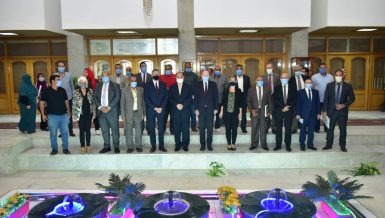 European delegation visits NSWMP projects in Assiut to follow up on their progress
---
New legislation to identify responsibilities of waste management stakeholders
---
The meeting came as part of the Ministry of Environment's plan to play its role in reducing the potential sources of the novel coronavirus, and the state's strategy to contain the disease. It also aimed to determine the current status of the two governorates' waste systems. 
---
---
We'll focus on improving health, social environment, attract more tourists, says Matrouh governor
---
Waste Management Regulatory Authority issues licenses to practice activity, provides information to investors
---
Dawar mobile application to become the official waste monitoring and management system for Cairo, Giza, Alexandria, Qena, Assuit, Gharbia and Kafr El Sheikh
---
This cooperation reflects UK's commitment to invest in Egypt, says Donaldson
---
Treated household waste in Sweden amounted to 4,783m tonnes in 2017
---
End of Section