Latest in Tag:

zamalek

Highlight
Latest in Tag:

zamalek
---
Siwa store in Zamalek features many different types of handmade garments and accessories made by inhabitants of Siwa
---
Lychee also offers a selection of hot and cold drinks, in addition to a fresh fruits and fruit salads
---
Cairo is home to many five star hotels and most include specialty restaurants, ranging from Oriental to Italian to sushi. Several DNE reporters went out to dinner to find the gems that are hidden behind the glossy facades of the capital's high class hotels
---
The Zamalek based initiative hosts a few exhibitions throughout the year but their real focus is in education and disseminating proper knowledge about art
---
Previous screenings have included masterful directors and renowned films such as Oscar-winner Life is Beautiful, Palme d'Or winner The Tree of Life, Tom Twyker's stylish Run, Lola, Run and Bergman's Persona
---
Nossier selected every item in the shop, even helping to design some of the signature scarves that are the centerpiece of the store. This personal touch adds the feel of a boutique to a store that is equal parts fashion, culture and social awareness.
---
The meat is ground fresh on the premises daily and blended with caramelized balsamic onion, roasted garlic and egg yolk. Perfection on a soft, buttery bun. Topped with homemade pickles, fresh tomatoes and lettuce, Hernandez's aioli of sweet and sour dill with chilies, black pepper and pickle juice put this one over the top.
---
---
View from the top; Cairo Tower has a lot more to offer
---
If you've seen the film Food, Inc. (2008)—and if you haven't, you should—you'll know that industrial farming is ruining the food chain. The health and welfare of the planet, unchecked by government regulations, is being held hostage to corporate greed. It's up to us to stop it. Not through petitions or demonstrations, rather, we should …
---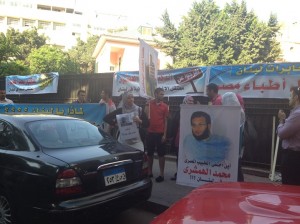 Patients and colleagues of detained doctor call for his release
---
Nurah Farahat and Majid Hassan perform at Sufi
---
What makes Nun different is how we approach healing, we are creating a holistic community of soul enrichment, and aspire to feed the soul before having to treat it.
---
End of Section